Timeless Bridalwear, based in Newtown, Trim is a family run bridal boutique, ran by Lizzelle (me!) and my wonderful daughter Adele since 2013.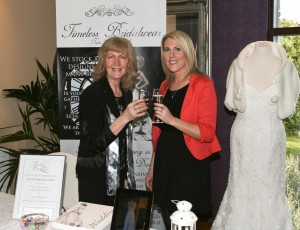 WHAT WE OFFER YOU!
We stock new and pre-loved wedding dresses at a fraction of the original cost. We provide a unique service with fantastic discounted designer wedding gowns for brides, as we are only too aware of the huge costs involved for a bride achieving her glamorous look. We offer fashionable, current styles from world renowned wedding dress designers and pride ourselves on offering the best for your budget.
YOUR PRIVATE APPOINTMENT
Each bride is treated to an individual consultation by appointment only. We provide expert friendly advice and assistance to all brides. We use our expertise in order to assist the bride with finding a dress that perfectly compliments her silhouette.
We pride ourselves on the value we can happily provide for brides coupled with the privacy of having one-to-one appointments where we can advise and assist you in finding your dream dress for less.
We believe a bride should have the opportunity to find her dream dress at a more affordable price without compromising on style, glamour or elegance.
SO MUCH CHOICE
There is a very large selection to choose from – sleek and modern to fairy-tale princess ballgown designs all at a fraction of the price elsewhere.  
A popular service we provide is when a bride has changed her mind on her wedding dress, we sell her dress for her and she can choose her new wedding dress from our rails – it eliminates a waiting time for the bride's new dress and takes any pressure off a bride in trying to sell her old dress!
We offer a generous 4 week payment plan for brides to relieve the pressure of paying for an off the rail dress straight away.
You can book an appointment with us online, or call us on 087-2256766/089-2055269.
Looking Forward to Meeting You! Xx