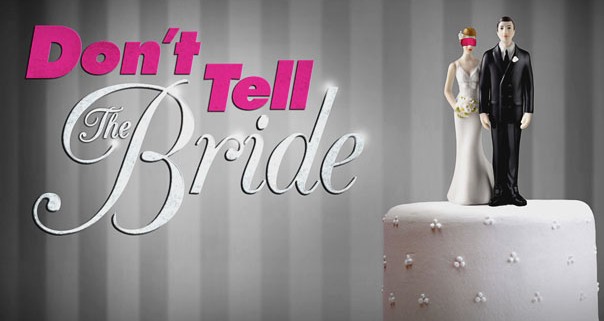 Ladies, would you trust your man to choose your dream gown?! What are the chances are of him getting it right??
This week we are delighted to being filming with RTE for their brilliant wedding series 'Don't Tell The Bride'! We are super excited to help the groom when he arrives at the boutique, no doubt a daunting task for any man!
By chance this week we had a little practice run on a more low key, yet equally significant affair, read on….
A few weeks ago a very romantic (and brave) man,  came to us to choose his future fiance's dress! He spent about half an hour browsing through the gowns with his two young daughters. Then we stepped in to assist, well as best as we could anyway! We enquired as much as possible on the future bride's style,shape, her taste in dresses, whether she likes strapless, sleeves, lace or satin etc.   Eventually they settled on a Maggie Sottero strapless soft satin gown with beautiful diamante beading to the bust, a simple yet elegant and romantic gown, perfect for their abroad wedding!
Oh, did we  mention that he had already booked their beach wedding in an exotic location??!!
After he proposed to her on Sunday (undoubtedly a romantic gesture that we have yet to hear about!), she certainly got the surprise of her life when he took her to our seamstress Irina to 'pick up a suit'.  blindfolded her and we nervously helped her into the Maggie Sottero number he had chosen.
We looked on with baited breath as she stared in silence at her reflection, for what seemed hours rather than seconds. To see her shock turn to a huge broad smile, we all hugged with relief and joy!! To our surprise, it fitted perfectly and she commented that she could not have chosen as well herself. 
She told us she had imagined that she could never 'pull off' a strapless sweetheart gown and presumed she never could. Yet there she stood, looking so radiant and beautiful in the form fitting strapless gown, one she would never have dared to don only for her future husband.
Now that is true romance personified, needless to say there were a few tears. What a man!
The experience is surely great practice for our 'Don't Tell the Bride' experience this week, let's hope the groom does as fantastic as this brave divil!
Keep posted to find out how our bride and groom get on!
http://www.timelessbridalwear.ie/wp-content/uploads/2015/11/1389854460-dont-tell-the-bride.jpg
325
604
lizzelle
http://www.timelessbridalwear.ie/wp-content/uploads/2013/04/logo1.png
lizzelle
2016-01-14 15:52:49
2016-01-14 15:52:49
Don't Tell the Bride Comes to Trim - Twice in one Week!